Pandit Digamber Dutt Upreti
Ph: 317-372-1830
Pandit Digamber Dutt Upreti hails from North India and graduated as Shastri from Rashtriya Sanskrit Vidyapeeth, New Delhi. With over 30 years of experience, he performs many religious ceremonies such as weddings, naming ceremonies, thread ceremonies, Satyanarayan pooja, Rudrabhishekam/homam, vastu shanti(graha pravesh), among others.
He currently works at the Char Dham Hindu Temple located in the Woodlands, Texas. He has earlier served at the Hindu Temple and Cultural Center of Washington, the Hindu Temple of Central Indiana, Shree Siddhivinayak Temple in New Jersey. Outside of the US he has worked as a senior priest at the Hindu Temple of Ottawa, Canada and as head priest in Delhi. He has lived in North America for over 20 years.
Shastri Ji fluently speaks Hindi, English, Punjabi, and Sanskrit. He is married and has three children.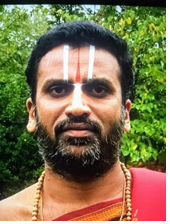 Pandit Venkatacharyulu Kumanduri
Ph: 301 357 9206
Email: venkat.kumanduri@gmail.com
Sree Venkatacharyulu Kumanduri hails from Kesavaram, West Godavari dist of Andhra Pradesh.Studied in He studied at the Jeer Educational trust.
Pandit Venkatacharyulu completed and has been practicing Pancharatra Agama and Yajusha Smatha Prayogam for 20 years. He worked in Ashta Laksmi Temple Hyderabad, Venkateswara swamy Temple Chikkadpally, Hyderabad and Siva Vishnu Temple in  Washington DC.
Pandit ji performs all Hindu religious rituals including marriages,vrathas,homas and all poojas.
He speaks multiple languages including Telugu,Tamil, Hindi and English.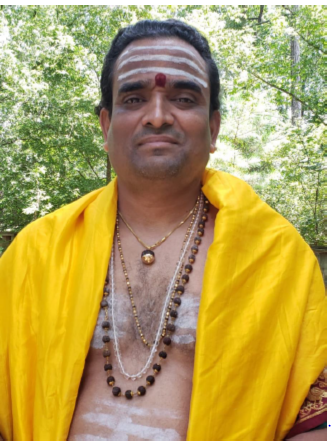 Pandit Ganesh Kurukalis
Ph: 626 421 9439
Email: kurukal@yahoo.com
Siva Sri Ganesh Kurukalis is a native of Sri Lanka (his father Sivakama Kiriyarathna Siva Siri Narayana kurukal hails from Tiruchi Tamil Nadu in India).
He has studied Sivakama at Sivanantha kurukulam. His special Award "Sivakama Vidyapyasa Uthyam" in 1994 at Sridevi Kurukulam.
He has worked at Sivasubramanya Temple in Colombo, Sri Lanka for 10 years, and has worked at various temples for 15 years in Los Angeles, California.
He performs various Hindu religious pooja and ceremonies such as Pranapratishta, Yagna (All kinds of Homam), Wedding, Girahapravesam, Sirartham, Sathyanarayana pooja, and many more in Indian and Sri Lankan tradition.
He speaks Tamil and English.
.
Pandit Pavan Kumar Kumanduri
Ph: 952-297-6868
Email:pavanveda2009@gmail.com
Sri Pavan Kumar was born in Vijayawada, Krishna District in Andhra Pradesh. He has studied pancharatra aagama at Jeeyar educational trust, Andhra Pradesh, India.
He has worked and trained at different temples since 1988.  Pandit ji worked as pradhana archaka at Sri Venkateswara Swami Aalayam in from 2007-2011 in Gajuwaka, Vizag, AP.  In addition, he worked at Vyuhalaxmi Sametha Srinivasa temple from 2011-2014.  From 2015-2020 Sri Pavan Kumar worked at SV Temple in Minneapolis, MN.
He performed yaagas, pujas and prana prathishatas in India, Sri Lanka and US. Pandit ji has performed samoohika pujas, gruha praveshams, Satya Narayana Swami pujas over the course of his career. In addition, he has performed Sudarshana homam, Lakshimi, Vaasthu homams, all kinds of samskaras, sundara kandam, Srimad Ramayanam and Kalayana Mahotsavams
.
Yogi Shri Gaganananda ji
Ravindranath, spiritually known as Yogi Shri Gaganananda ji hails from South Indian Yogic family in which Yoga is a family lineage for several generations. Yogi ji was initiated into Yoga life by his grandfather Yogacharya Gangadhara Shastry ji in 1977. Soon, Yogi ji became an advanced Yoga teacher at the age of 11 years. Being a Rig-Vedic Brahmin, he studied Vedanta philosophy at the oldest city Banaras. Later, he received the spiritual name 'Yogi Shri Gaganananda' at the banks of river Ganges in 2001.
Yogi ji completed Yoga & Naturopathy study from Gujarat Ayurveda University, Jamnagar. He has so far trained more than 10 thousand International yoga teachers & students in South Korea, Japan, Indonesia, Vietnam, China, Australia and USA. Since 2008, he has officially served as Yoga teacher at Indian Embassies in Indonesia, China & Japan.
Yogi ji preaches on Bhagavatam, Bhagavad-Gita, Ramayana etc. with scientific explanations on Vedic culture in Sanskrit, Hindi & English languages. Apart from Yoga & Vedanta proficiency, Yogi Shri Gaganananda ji is an Indian classical bamboo Flute maestro. Yogi ji often uses his melodious flute music during his Live Music for Meditation sessions.
As a Yoga and Vedanta Teacher, Yogi ji finally joined the SKAI Foundation.